ABOUT US
A well-established specialty manufacturer of Kumano makeup brushes with the longest history.
We are a well-established makeup brush manufacturer founded in 1935. Although a majority of our clients are cosmetic manufacturers or their suppliers, we manufacture our products with the feelings of each individual consumer in mind.
MISSION

Satisfying our clients in terms of "quality", "price" and "safety".
Letting more people feel "richness" and "beauty".

VISION

Inheriting the history and tradition of Kumano brush making.
Actively expanding overseas production.
Aiming to be a trusted company that considers safety and the environment.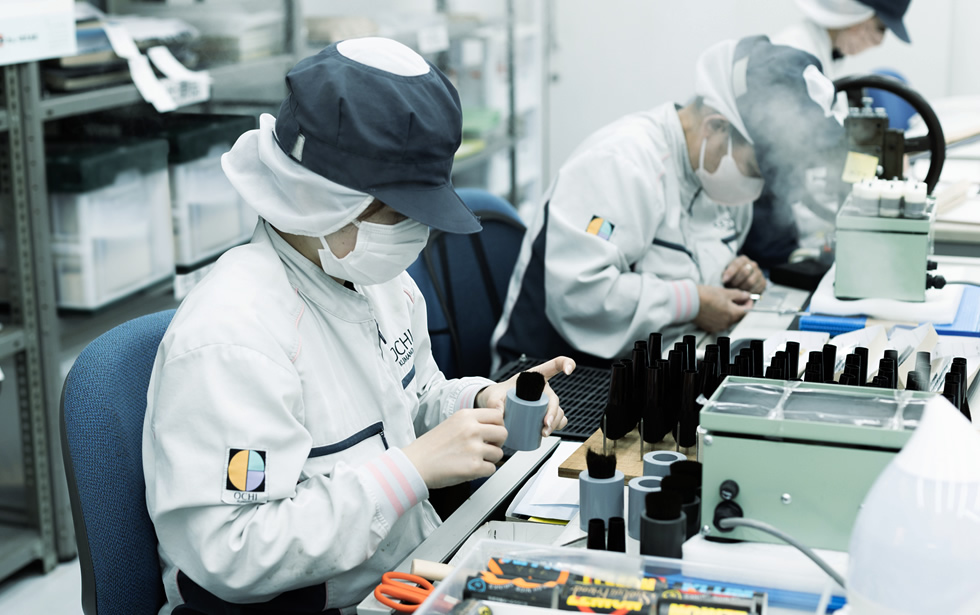 Inheriting the history and tradition of Kumano brush-making, a majority of the manufacturing process is done by the hands of skilled craftsmen and each brush is carefully finished. Even at our overseas factories, under a strict quality control system, craftsmen who have acquired brush-making techniques that are on par with the those in Japan are involved in the brush manufacturing process.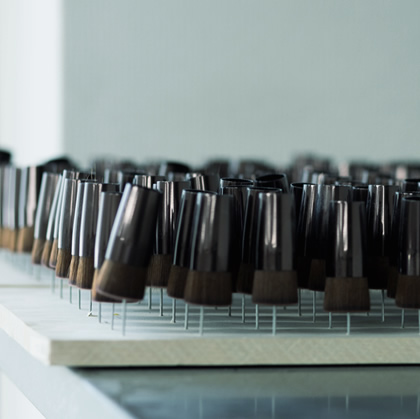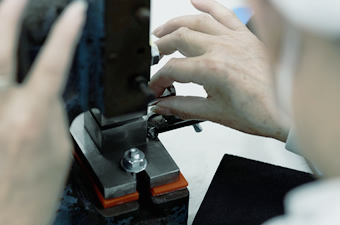 FEATURE
FEATURE 01

Kumano's
longest-established makeup brush manufacturer.

Even within the town of Kumano, also known as "The Brush Capital", which produces approximately 80% of the calligraphy brushes in Japan, Ochi Co., Ltd is the oldest and longest-established manufacturer of makeup brushes. Since its founding in 1935, the founder Kiyoshi Ochi, worked diligently day and night devoting himself as a craftsman making lip brushes. Even after the business was taken over by Fumio Ochi, the second generation, we have continued to devote ourselves to make-up brushes.

FEATURE 02

Japan's
largest track record.

We handle more than 150 brands, mainly domestic major cosmetics manufacturers and develop an average of 250 new products every year. The production capacity of the entire group exceeded 1.5 million units per month. Currently, we are closely monitoring the development of the overseas, salon and volume retailer market and working hard on improving sales so that more people can use Ochi Co., Ltd.'s makeup brushes.

FEATURE 03

High quality
inherited from the
history and
tradition of Kumano brush-making.

In addition to brush fiber preparation and tailoring, every step of the brush manufacturing process incorporates traditional methods. Most of the brush manufacturing process is done by hand and without relying on machines or cutting devices. High quality is maintained not only at the Kumano factory headquarters but also at our overseas factories as well. Especially at our China factory in particular, we have subdivided the manufacturing process, promoted manualization and invested time in rearing craftsmen equipped with skills that are not inferior to the quality level of Japan.

FEATURE 04

Competitive pricing by utilizing
overseas bases.

In 1990, we established a joint venture in China (amicably dissolved in 2006) in pursuit of cost reduction in response to customer requests. In 1991, we established a wholly-owned subsidiary in China and established a subsidiary in Laos in 2018. At that time, the infrastructure in China was not yet in place and it was a long road with many obstacles. However, now that the craftsmen have been trained and the quality control system has been strengthened, we can actively recommend production in China. We regard competitive pricing as a manufacturer's responsibility and will continue to take on the challenge of further cost reduction.

FEATURE 05

Support system
from design
to delivery.

We will contribute to the creation of better products by making use of our accumulated experience and proactively make proposals from the design stage. In addition, even when manufacturing at the overseas factories, we take responsibility of thoroughly eliminating defective products through our own inspection standards and do our best to meet delivery deadlines.
INITIATIVES
SDGs initiatives

Ochi Co., Ltd. upholds the management philosophy of "Close support of your thoughts", and with the ambition of "Creating makeup brushes with diverse ideas". Inheriting the "history and tradition of Kumano brush-making", valuing "sincerity and humility" and building an organization that can deliver "richness of mind" to society, all of our employees work together to make a positive contribution to society. We evaluate the extent to which our initiatives are currently being implemented in light of the goals of the Sustainable Development Goals (SDGs) and aim to further develop and integrate this system into our medium to long-term business strategies.

VIEW MORE

GMP initiatives

Since 2007, we have been promoting GMP (Good Manufacturing Practice) initiatives throughout the company as manufacturing industries as a whole are expected to uphold increasingly higher standards to ensure stricter and more thorough regulations on safety and quality. GMP is a "technical guideline for manufacturing safe, high-quality and excellent products" that establishes requirements for the manufacturing and storage of cosmetics as well as the structural equipment of manufacturing plants. We aim to be a company that consistently manufactures high-quality products by establishing manufacturing, sanitation and quality control in order to eliminate the causes of defects and documenting them in manuals.

Specifically, we make it an obligation that all activities be "performed in accordance with the manual" and "recorded" and make improvements if necessary. Only then can we supply safe, highly reliable, high-quality products and gain the trust of consumers.